Monday, November 12: Evolution Reading
Eileen Myles is one of the mightiest writers in America today. Their new collection of poetry,
Evolution
is about America and the presidency and corporate consumer culture. This might just be the poetry collection that 2018 needs.
Hugo House, 1634 11th Avenue, 322-7030, http://hugohouse.org, 7 pm, free.
Tuesday, November 13: SFWA Reading
The Science Fiction Writers of America celebrates its Northwest chapter with readings from two local sci-fi greats: Sandra Odell and Mary Robinette Kowal. Kirkland doesn't see very many readings, so it's good to see the SFWA representing on the east side.
Wilde Rover Irish Pub & Restaurant, 111 Central Way, Kirkland, http://www2.bookstore.washington.edu/, 7 pm, free, 21+.
Wednesday, November 14: Fierce Reading
Jo Weldon is Headmistress at the New York School of Burlesque. Her new book
Fierce
is subtitled
The History of Leopard Print
. It's about the daringest print that looks great on everyone, and how it quietly took over the fashion world.
Elliott Bay Book Company, 1521 10th Ave, 624-6600, http://elliottbaybook.com, 7 pm, free.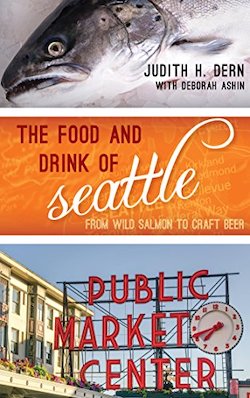 Thursday, November 15: The Food and Drink of Seattle Reading
Judith Dern's new book digs into the history of Seattle's food, from mushrooms to salmon. All the usual favorites, from geoducks to craft beers, are represented in the book.
Third Place Books Ravenna, 6504 20th Ave NE, 525-2347 http://thirdplacebooks.com, 7 pm, free.
Friday, November 16: Catch, Release Reading
Port Townsend writer Adrienne Harun celebrates her recently published second collection of short fiction tonight. It's about thefts and cults and con games and violations of trust.
Elliott Bay Book Company, 1521 10th Ave, 624-6600, http://elliottbaybook.com, 7 pm, free.
Saturday, November 17: The Sexiest Man Alive Book Launch
See our Event of the Week column for more details.
Vermillion Art Gallery and Bar, 1508 11th Ave., 709-9797, https://www.facebook.com/events/299333797329025/, 7 pm, $5.
Sunday, November 18: Seattle Anarchist Bookfair
Come check out tables from vendors including Ad Astra Comix, Rose City Antifa, Left Bank Books, Tech Workers Coalition, Detritus Books, and Blood Fruit Library at the annual Anarchist Bookfair. Workshops include a report of recent IWW actions and a discussion of racism.
Vera Project, 305 Harrison St, 956-8372, http://seattleanarchistbookfair.net, 10 am, free.