Every month, Daneet Steffens uncovers the latest goings on in mystery, suspense, and crime fiction. See previous columns on the Criminal Fiction archive page
Reading around: new titles on the crime fiction scene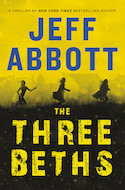 A mother who recently disappeared; a suddenly-missing wife; and "a new friend named Lizbeth": these are the titular women of Jeff Abbott's Three Beths (Grand Central), a psychological thriller primarily driven by Mariah Dunning's search for her vanished mother, Beth. When the police try to coax her away from her private investigation, Mariah redoubles her efforts, aided in certain – and uncertain – ways by an ambitious true-crime blogger and wanna-be podcaster, as well as by several friends and relatives of Bethany, the missing wife. Like all best puzzles, this one grows richer the deeper Mariah delves. An ineluctably terrifying but highly-rewarding read.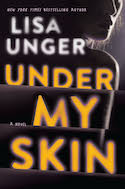 In Lisa Unger's Under My Skin (Park Row Books) photographer-turned-agency-director Poppy Lang is mired in a nightmare: her husband, Jack, was murdered while out on a run. In the ensuing year, Poppy has been a slave to sleep-deprivation and tauntingly-missing memories; she's also been popping pills like there's no tomorrow. As her friends and family try to cocoon her from pursuing too many unanswered questions, Poppy wades her way through daily life in a kind of waking dream, unwilling to abandon her questions. But the danger threatening what's left of her world is all too close and present, an ugly reality just waiting to invade. In a novel steeped in the world of photography as well as both canny and uncanny observations, Susan Sontag's On Photography is included in the author's Acknowledgements, and, within the story, there's a gentle nod to George Pitts, the prolific and inspiring photographer, photo director, editor, painter, writer, and teacher.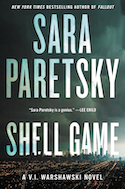 Chicago's VI Warshawski is on top form in Sara Paretsky's Shell Game (William Morrow). A missing niece and deep trouble for a friend's nephew mean that Victoria Iphigenia has two mysteries to juggle, and finds herself up against more life-threatening moments than she can count on one hand. While she'd rather be watching reruns of Kojak, Paretsky's peerless PI comes up against some of the more toxic sides of humanity, including the arrogance of the elite, the inherent invisibility assigned to service workers, and the horrific brutality of America's current policies: "We had become a nation of bullies." But there's hope here too, generated by the infallible love between a father and daughter, and through Warshawski's own father's words ringing cautiously, optimistically, in her ear: "Measure twice, cut once….It's advice for life, Pepperpot."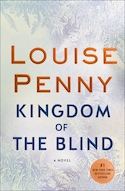 Armand Gamache, currently on suspension from the Sûreté du Québec, finds himself one of three executors of the will of a woman whose name is a mystery to him, until that particular mystery is resolved over a robust community-centered conversation in his bucolic village of Three Pines. But from small puzzles do large, ever-more excellent ones grow, especially in a Louise Penny novel: in Kingdom of the Blind (Minotaur), as Gamache does what he can to prevent a destructive amount of toxic opioid flooding the streets of Montreal, he and his colleagues chase up murder most foul, dark doings at high-class financial institutions, and an extended legal matter that puts Bleak House's Jarndyce v Jarndyce to shame.
The Quintessential Interview: Lou Berney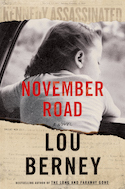 Set against the already-tense days following the assassination of John F. Kennedy, Lou Berney's November Road (William Morrow) takes you on a searing and soul-chilling road-trip during which two disparate lives collide in a landscape populated by dark-hearted hit men, mob heads, and an emerging-from-his-shell teenager. There are incisive inclusions of Bob Dylan lyrics, and inescapably funny moments: "She needed a kind face, an encouraging word. Instead she found a sour Baptist pickle behind the motel reception desk." Depicting the depths of a dark chapter of American history, this beautiful novel nonetheless offers promising elements of light as a rogue fixer falls for companionship, and a stifled suburban housewife finds her power, her voice, and herself.
What or who are your top five writing inspirations?
Chilly, rainy weather always gets me going. Reading a great novel will often temporarily crush my spirit but then a few hours later I'll be all jacked up to hit the laptop. Driving through my hometown of Oklahoma City, watching an amazing sunset split open the sky – that's when good ideas often come to me.
Top five places to write?
A coffee shop in Oklahoma City called Cuppies & Joe (it's in a great creaky old house); my kitchen table; my back deck while my dog futilely but enthusiastically chases squirrels; airplanes and hotel lobbies (lately, while on book tour).
Top five favorite authors?
Five? Are you sure I can't give you five hundred? Since I have to narrow it down, I'll stick to contemporary novelists and say that five OF my favorites are Kate Atkinson, Don Winslow, Viet Thanh Nguyen, Attica Locke, and Rachel Kushner.
Top five tunes to write to?
Rosanne Cash's version of "Long Black Veil." "Sweet Jane," by the Velvet Underground. "Somebody Have Mercy," by Sam Cooke. Anything by Jenny Lewis. If I'm in a really bad spot, I'll crank Social Distortion's "Ball and Chain."
Top five hometown spots?
Chesapeake Arena during an Oklahoma City Thunder basketball game. One of the great indie bookstores in Oklahoma City (Full Circle, Commonplace, Best of Books). Memorial Park by the old fountain that's been there forever (and was in a Flaming Lips video). Any pho restaurant in the Asian district. The garden behind the National Cowboy & Western Heritage Museum where legendary rodeo bulls and bucking broncos are buried.