Every week we ask an interesting figure what they're digging into. Have ideas who we should reach out to? Let it fly: info@seattlereviewofbooks.com. Want to read more? Check out the archives.
Kristen Millares Young is the author of the upcoming Subduction (Red Hen Press, spring 2020), as well as an essayist and journalist. She's the current Prose Writer-in-Residence at Hugo House. Mark your calendar now! See Kristen read, sing, and perform with a host of others in "Lit Jam: a Night of Words and Music" at Hugo House on March 8, and catch her off-site during AWP reading from "Every woman keeps a flame against the wind." to celebrate Latina Outsiders: Remaking Latina Identity, in Portland, March 27 at the Milagro theater.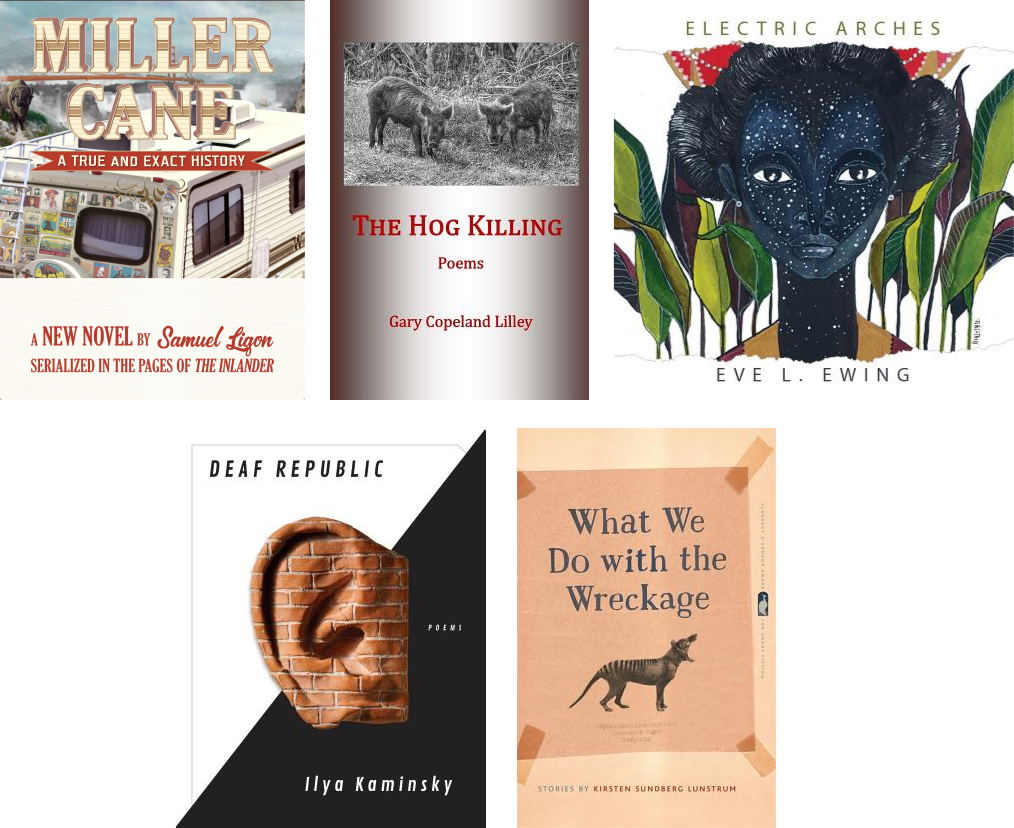 What are you reading now?
Sam Ligon's Miller Cane: A True and Exact History, serialized in the Inlander, is the only reason I look forward to opening my email, where I get a weekly installment. Miller Cane lives the long con, and his marks are the victims of massacres. A fraudulent historian, Cane goes on the lam "to save the young daughter of the woman he loves, taking her with him on his roadshow across the worn-out heart of America, staying one step ahead of what's after them."
Miller Cane is a satire. Miller Cane is deadly serious. In this epic road trip novel, Ligon evokes the zeitgeist of our cultural obsessions with guns and healing while maintaining the pacing of a potboiler. His prose is unmistakable – taut, acerbic and driven by hope for a country whose rules he criticizes with the relentless fervor of a patriot.
Reading Miller Cane, I laugh so often I have to wonder why few writers make use of their wit to divine the pathos of our collective psyche. Among the many gifts of Miller Cane, aside from its gumshoe plunder of Pacific Northwest places and American history, are Ligon's insights into parenting and the horrors of loving. Great lines abound.
The Inlander projects that Miller Cane will wrap up in 2019. Writing Miller Cane for weekly deadlines, reading it too on Spokane Public Radio, Ligon reaches for the legacy of that other great serialist, Charles Dickens. The only way out is through. Good luck, Sam.
What did you read last?
Lately, I've been flickering between two books of poems:
The Hog Killing by Gary Copeland Lilley, out on Blue Horse Press. Listen to him read "The Car is the Crucial Chariot to Rural Culture," a poem that's supple because his language is highly crafted and rooted in place and time. Gary's poems sound like they come out perfect, a spontaneous rush of observation, thought and action, but his teaching approach is about rigor of vision and revision. I am honored to read with him and Paisley Rekdal on July 14 during the Centrum Port Townsend Writers' Conference, where, in the afternoons, he'll help folks resurrect dead poems while I'm teaching fiction.
I received scholar, cultural organizer and sociologist Eve Ewing's Electric Arches as a gift from my friend Kristen Goessling, an assistant professor at Penn State Brandywine, where she teaches young people to activate their ideals with an artistic practice rooted in social justice and a collaborative pedagogy informed by her love of theory. I'll read anything Goessling recommends.
After reciting Ewing's "what I mean when I say I'm sharpening my oyster knife," I ripped up this week's syllabus for my Hugo House class and assigned Electric Arches, a mixed media book of poetry, essays and visual art from Haymarket Books. Based in Black reality, cherishing a future born from fierce imaginings for her community, Electric Arches is a true work of art.
What are you reading next?
I have deliberately delayed the gratification of finishing my advance reader's copy of Deaf Republic by Ilya Kaminsky, with thanks to Bill Carty and Seattle Arts & Lectures. Down hard with a cold, I just cracked Deaf Republic and was stunned into a pause by the first poem, "We Lived Happily During the War." I am tempted to sample it here, in its entirety, as Kaminsky often does his favorites on Facebook (there is no better person to follow online for a running poetic commentary on our times, as elucidated by exquisitely paired works from his favorite writers). But I will content myself with "in the street of money in the city of money in the country of money."
A book to savor, a book to devour. I battle my own proclivities to write this paragraph for you, rather than finishing Deaf Republic. Self implicating and expansive, something accusatory resides in his honesty. His litanies are revelations. I will never forget Kaminsky's performance at the Centrum Port Townsend Writers' Conference, where Ligon is artistic director. Kaminsky electrified the whole audience with urgent work that refuses our collective silence.
Part of SAL's Poetry Series, Kaminsky will perform on Monday, April 1 at Broadway Performance Hall, Seattle Central Community College. 7:30 p.m. Deaf Republic comes out March 5 from Graywolf Press.
What book would you recommend most as a holiday gift?
Kirsten Sundberg Lunstrum's What We Do With The Wreckage, which won the University of Georgia's Flannery O'Connor Award, is a slow burn. In this potent collection of short stories, Lunstrum maps the perseverance needed to survive the invisibilities of girlhood (and later, marriage and motherhood) to become women seen in our own right.
Amidst subtle scenes and intimate dialogue so real you wonder whether she takes notes at family dinners, Lunstrum breaks form to bring fable into daily life. Throughout, she delivers lyric insights with real authority. "I know that when I open my mouth next, I will speak like this – in gusts, with force. I will sound like fire moving through a forest…"
On Thursday, January 24th, from 7-8:30 p.m. at Hugo House, I will moderate a panel on the state of short fiction. Lunstrum will appear with Ramon Isao, Corinne Manning, Becky Mandelbaum, and E. Lily Yu.