Every week we ask an interesting figure what they're digging into. Have ideas who we should reach out to? Let it fly: info@seattlereviewofbooks.com. Want to read more? Check out the archives.
Paulette Perhach is the Seattle-based author of the book Welcome to the Writer's Life: How to Design Your Writing Craft. Her writing has appeared all over the place: Elle, The New York Times, and Slate, just to name a few. She offers coaching to writers (a group session is starting January!). She just published this wonderful piece on Hobart you should read, titled "Risk Mitigation at the Dawn of my Conceivable Extinction".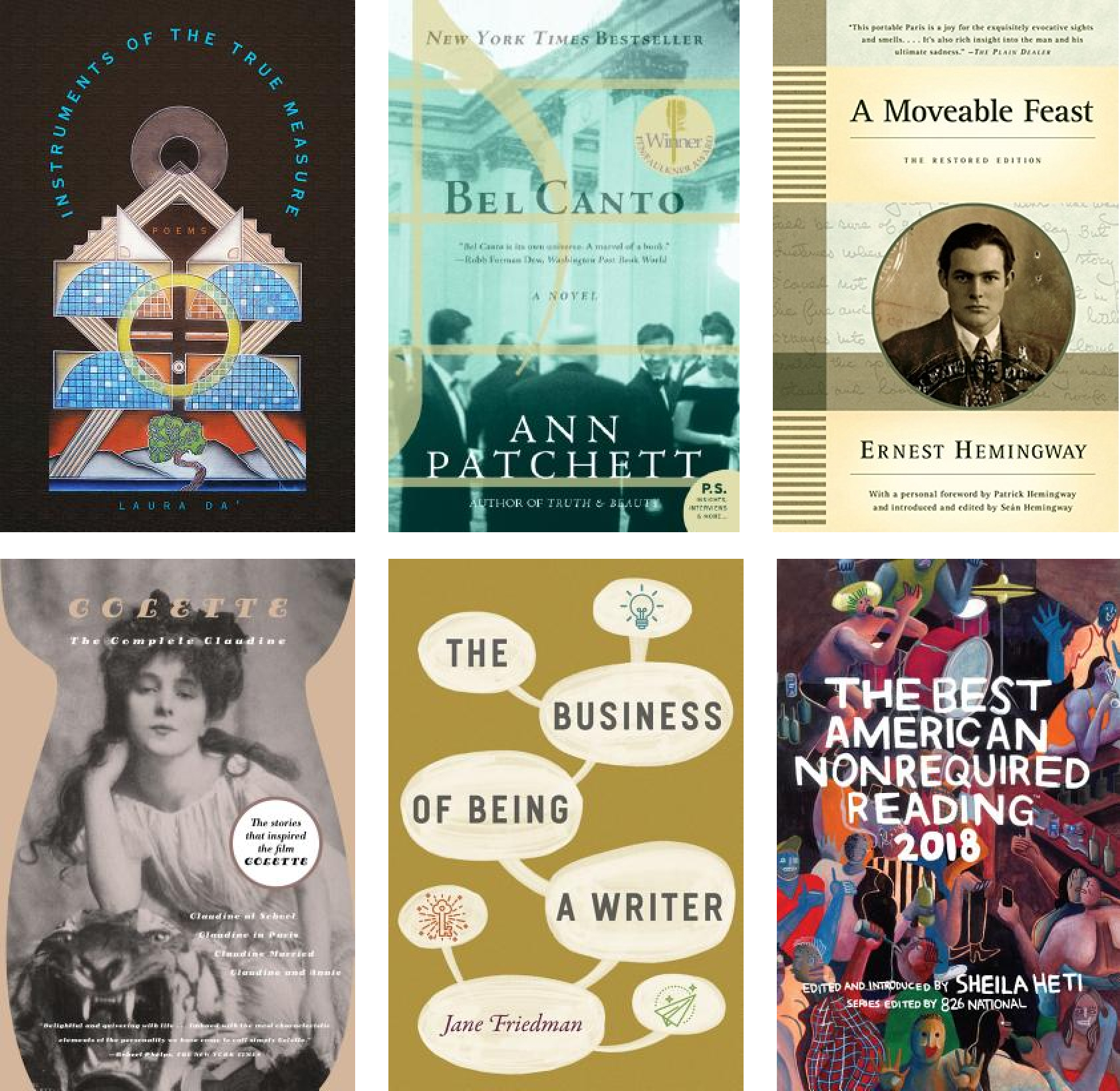 What are you reading now?
I'm reading Laura Da's book of poetry, Instruments of the True Measure. The title refers to themes of measuring land as the first step in removal of the people living there. Laura is in my former Made at Hugo House Fellows writing workshop, and I pretty much just fangirl over her work every time. It's embarrassing, but I can't stop.
She's not afraid of poems wrapped in fog, which lead you through a dreamlike world of ambiguity. After reading a poem, I'm filled with a feeling that I trust is exactly the one she wanted me to feel. Coming to creative writing from the world of journalism, I have much learn from her.
Here's a section of the title poem I love:

Moving lines of settlement
are baptized in the bile

of their own digestion.
Chickasaw in the northern parcel of the state

Choctaw in the central.
Domesday Book scrolls meld into the

linen press
of the Kansas-Nebraska Act.
[insert poetry "mmmmm" here]
What did you read last?
I recently moved and, upon unpacking, found a copy of Ann Patchett's Bel Canto I'd seen at a thrift store, which is where I like to pick up titles that make me think, "Oh I've heard of this." I've been reading so many how-to books this year — about how to be a writer and how to make a living at it — while researching my book Welcome to the Writer's Life. I was missing that feeling from of a book you can just fall into, one that makes you stay reading in the tub long after you're raisiney, adding more hot water for one more chapter, one more chapter, one more chapter. Bel Canto answered the call wonderfully. It made me want to take up my novel again, and it tricked me — at least for a week — into thinking I loved opera.

What I admired most was how Patchett balanced dozens of characters and multiple languages in a way that never left me confused. She also described the music in a way that could have fallen so flat, but instead made me feel like I was hearing it live.
What are you reading next?
I'm off the travel-addict wagon and am flying to France on Christmas (which is how my boyfriend found us $600 tickets, so not too bad). I'm trying to find a comprehensive but readable book on the French Revolution. With the protests there now and how things feel pre-revolutiony here, I think that is the right story for me, but it turns out it's hard to find just one. (Internet? Recommendations?) I might just go for A Moveable Feast or The Complete Claudine by Colette. Or I might haul three books across the Atlantic because I'm ridiculous and refuse to get a Kindle or admit I don't really read that much while traveling.
After that, it's back to The Business of Being a Writer by Jane Friedman. But I enjoy the entrepreneurial side of being a creative, too.
What book would you recommend as a holiday gift?
I'm always going to be that aunt trying to force young folks to read, and my secret weapon is Best American Nonrequired Reading. I always get a copy for my nephew. It makes a great stand to lean his cell phone against; but once I hide his phone for family read time, I like to see him read it and smirk at the funny parts.
In general, the Best American Series is a fantastic shortcut for anyone you know who likes a particular genre of writing. Now they have best American mystery, sci-fi, fantasy, nature writing, sports writing, and poetry — pretty much all the things. It's a lovely buffet from which they can sample writers in the field, and any one I read almost always leads me to a writer I come to follow and love. I found Cat Rambo by reading Best American Sci-fi. She included a Seattle reference in her story about a cat. My assumption that she was local turned out to be correct. I eventually met that very cat.
As a writer, it's so useful to read so many lessons in one place. I reached out to one travel writer to tell him I loved one of his stories, and he's become a mentor of mine. So the Best American Series can bring magic to friends who are simply readers or readers and writers.