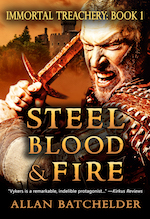 If you like epic dark fantasy, stop reading this post and
go immediately to the sample chapter
from sponsor Allen Batchelder's
Steel, Blood & Fire
. You'll find the not-so-heroic hero Tarmun Vykers sitting in the stocks, at the mercy of an entire village he's mysteriously offended. It's an irresistible opening, and so are the cameos by Aoife, a woman on a secret and possibly deadly mission, and Long Pete, a man whose destiny (at least for today) lies at the bottom of a flask. The first book in a series called Immortal Treachery,
Steel, Blood & Fire
is a fast-paced and gripping story, and we're delighted to share a taste with our readers.
Sponsors like Allan Batchelder make the Seattle Review of Books possible. Did you know you could sponsor us, as well? We've just opened up our new slots for spring and summer 2018. If you have a book, event, or opportunity you'd like to get in front of our readers, reserve your dates now.